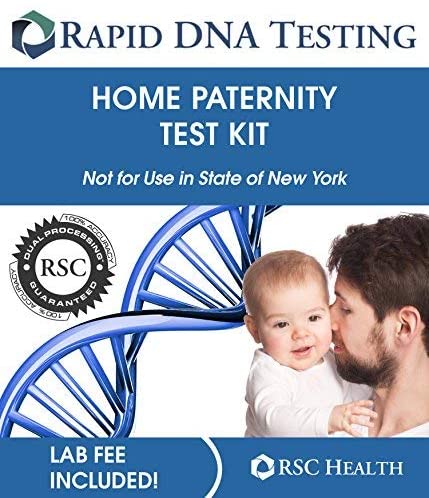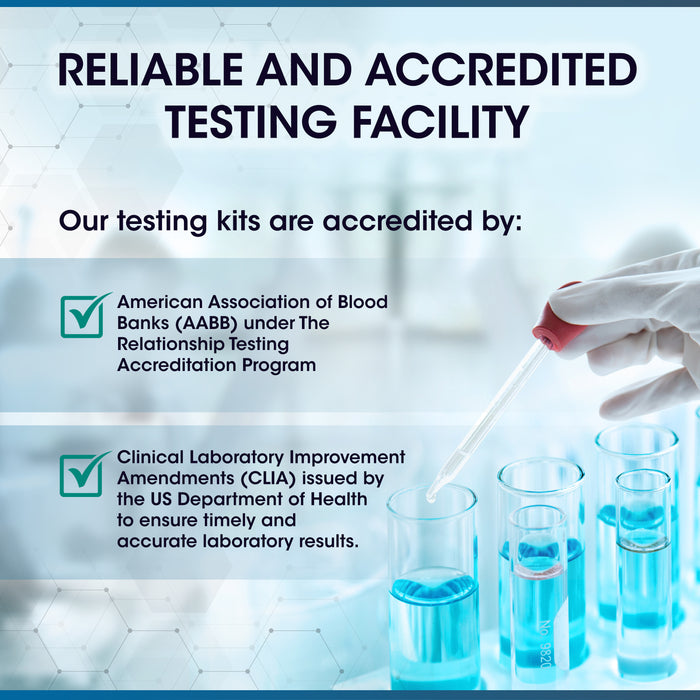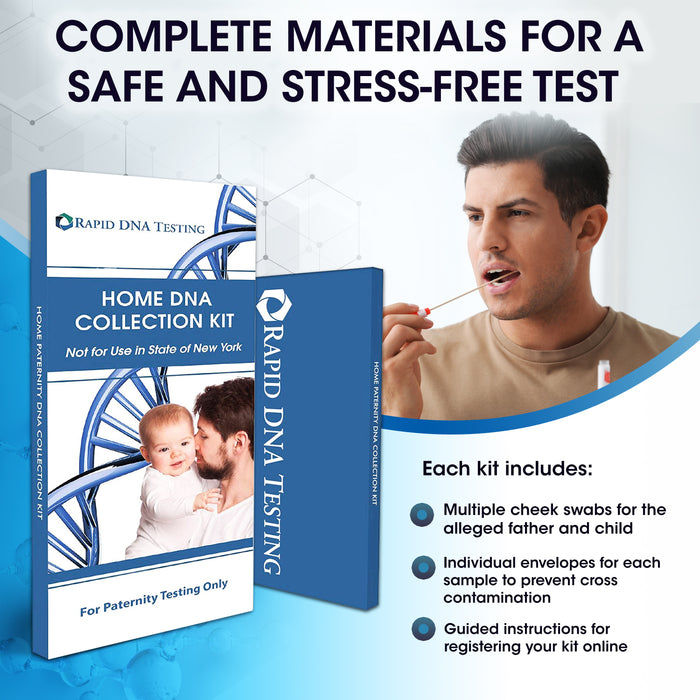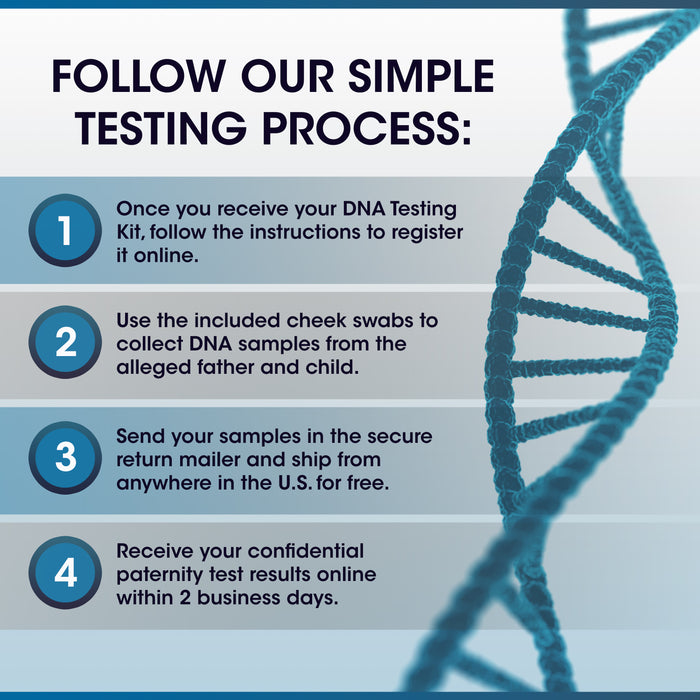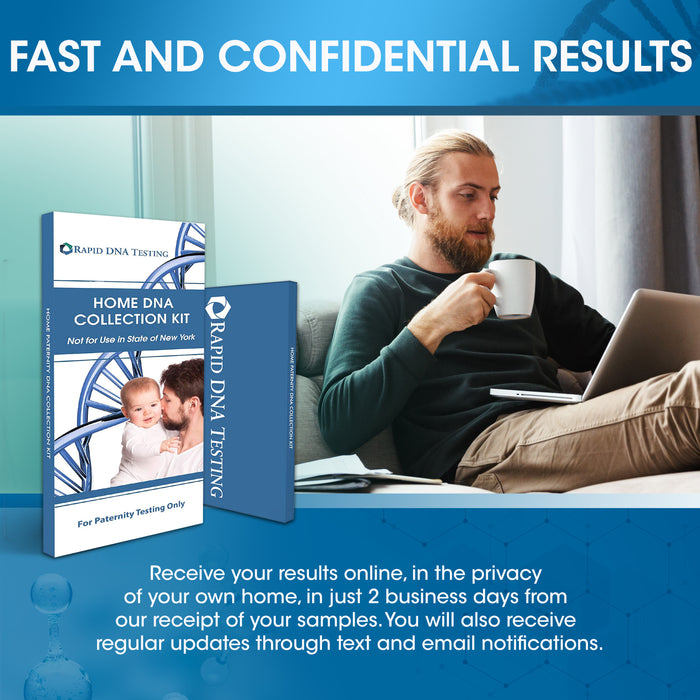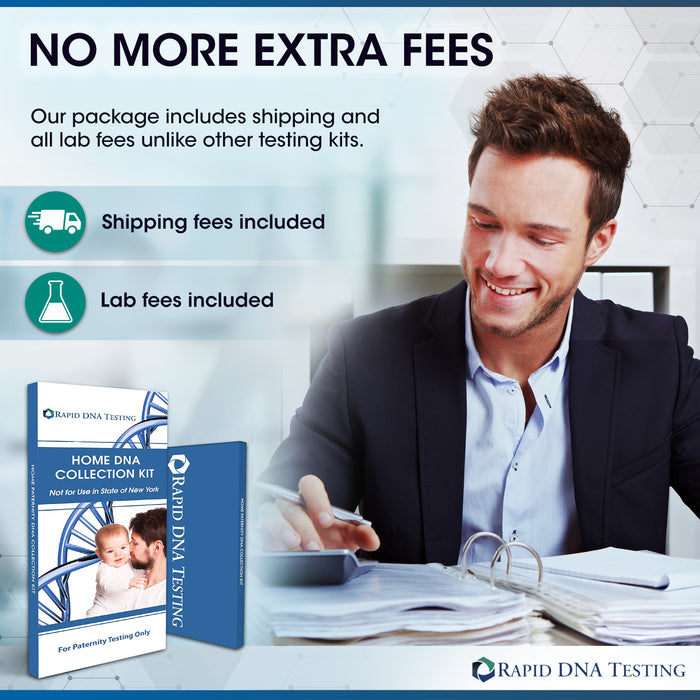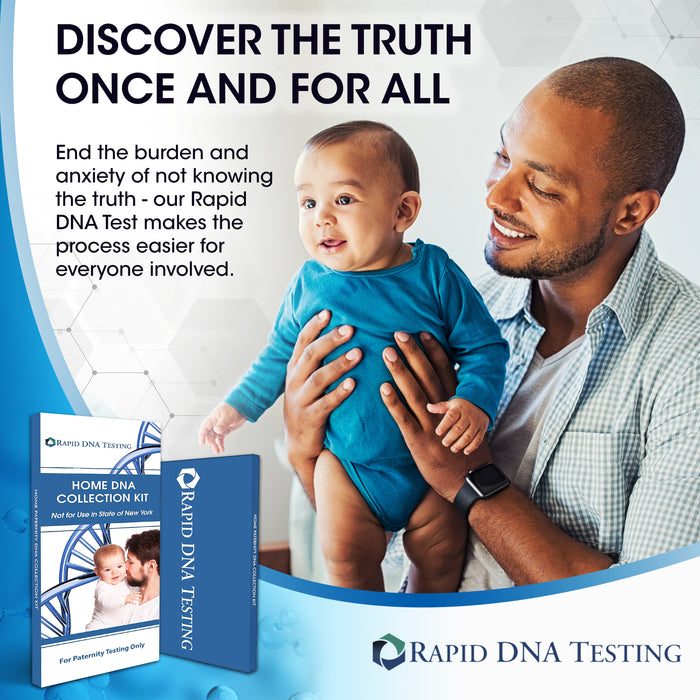 Rapid Paternity Test Kit Lab Fees & Shipping to Lab Included DNA Results in 2 Business Days
DNA testing can give your family the answers you need, and with our fast, affordable Rapid Paternity Testing Kit, discovering the relationship between a father and child is easier than ever.
This DNA test kit includes all of the high-quality, reliable materials you need to collect non-invasive DNA samples of the father, child, and mother. Once we receive your samples, you will know the results in two business days, guaranteed.
Wondering about the biological relationship between a husband and son or daughter can lead to years of unnecessary stress and unease. Our simple home paternity test kit takes the mystery out of paternity and gives you the peace of mind you deserve.
All Lab Fees and Shipping Included
Some DNA test companies hit you with shipping costs and processing fees after you purchase the kit. Our company includes all shipping and expenses in the upfront cost of your kit, so you do not have to worry about spending more than you intended.
Free Shipping Back to Lab
The initial cost of your kit includes free shipping back to our testing facilities. Just seal your sample envelopes and drop them off at a FedEx or UPS shipping center for free.
All Lab Fees Included
The test kit's price includes processing costs, so you will never have to pay any additional lab fee.
Fast Results
We know that taking a genetic test can change lives, so we process all of our home paternity tests as quickly and accurately as possible to get you the answers you need.
Our kits feature a faster turnaround time than other kits on the market, and we guarantee test participants will receive their paternity test results within two business days after we receive your cheek swab paternity samples.
Our home test kits utilize a quick, straightforward process:
Purchase your home paternity test kit.
Once you receive your home paternity test kit in the mail, follow the provided instructions to register it online. Registering your kit allows you to see updates along the way and receive your results as quickly as possible.
To collect DNA, simply swab the inside of the father's, child's, and mother's (optional) cheek with the included cheek swabs. These saliva samples are entirely painless and take just a few seconds to obtain.
Place your samples in the included secure return mailer and ship them from anywhere in the United States to our testing facilities for free.
Receive your confidential paternity results. Results are available within two business days after we receive your samples.
Our team will send you text and email updates during each stage of the testing process, and your test result will be available for review online as soon as we finish processing your sample. Simply log in to our website to see a detailed explanation of our findings in easy-to-understand terms.
Test with Confidence
Rapid DNA Testing is the most accredited DNA test lab in the United States. Our testing center has received accreditation from the:
AABB
CAP
ISO/IEC
CLIA
ANSI-ASQ National Accreditation Board/FQS
You can feel confident that our testing process follows all of the necessary research and confidentiality guidelines to keep your information safe.
Our paternity kits are all-inclusive and feature high-quality, state-of-the-art materials, and we have been conducting DNA and medical tests for over 13 years. You can rest assured that you will receive the most reliable, quality results through our company.
Accuracy Guaranteed
When you take a paternity test, you want to be sure that the results are as accurate as possible. Our company guarantees the accuracy of your results through our reliable and secure testing methods.
Our labs use Dual Process technology to double-check our work—this process runs your DNA sample twice with two different teams before a doctor signs off on the results. You can feel confident that your home paternity test will settle any questions about paternity that you may have.
Have Questions?
We know that paternity testing is an unfamiliar concept for many, so our customer service team is available to answer any of your questions and ease your anxieties. Our team is available by phone, email, or virtual chat during regular working hours, and we will respond to your inquiries as soon as possible.
We take our customers' satisfaction seriously, so if you aren't satisfied with our testing kit for any reason, we will send you a full refund.
Conducting a paternity test kit at home can save you years of stress and anxiety. Whether you would like to confirm your biological relationship with a son or daughter, identify a half-sibling, or feel confident about your genetic relationship with your dad, our at-home testing kits take all of the guesswork out of issues surrounding paternity.
FAQs
What is it?
This is a DNA paternity testing kit which determines the biological father of a child. This easy-to-use Paternity Test Kit contains everything necessary to collect and submit cheek-swab samples from two individuals - the alleged father and the child - in the privacy of your home. Get fast and accurate results for your peace of mind today. 
What's included?
The kit includes step-by-step instructions that take you through the process and a return mailer for your DNA samples.
Do I need to pay extra in order to get the results?
There are no hidden fees or extra costs: the purchase of the Paternity Test Kit by Rapid DNA Testing covers all lab fees and shipping fees.
Whose DNA will I need?
This kit tests for standard paternity by testing DNA samples from:
How long do I have to wait to get the results?
Upon receipt of the samples, we are able to report the findings to you via secured online portal within two business days after we receive the samples at the lab.
Can the results be used in court?
Results from this particular test will not be admissible in court for legal proceedings. In order for any outcome to be used in court as evidence, a notary must witness the sample collection; therefore, these tests may not be credible or permissible as evidence in the Family Law Court. However, we do offer Legal DNA testing that will qualify for evidentiary purposes. Refer to the Customer Support information included the Paternity Test Kit.
Why is this item not for use in the state of New York?
Because New York State requires a physician or court order, Rapid DNA Testing does NOT send at-home DNA collection kits to New York addresses.